Your Source for vital Saranac information
The lovely Village of Saranac, 48881
Starting November 7th 2016 Ionia Dial-A-Ride: New Daily Trip Schedule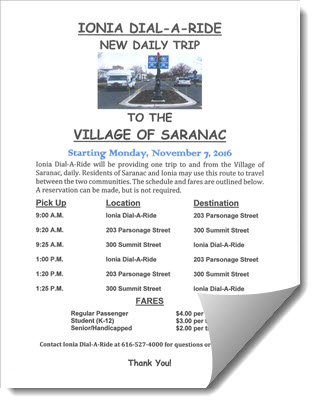 2016 Revised Consumer Confidence Report
(revised 9/23/16 to include copper test results in table on page 3)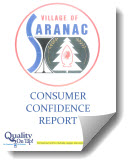 Short-Concise "Did You Know" type info sheet from Village of Saranac
Whether you've just moved to our friendly little village or you're a seaoned village resident, we hope you find the following information useful:

*** Attention Trail Enthusiasts
The Village of Saranac recently purchased property at 113 N Bridge Street (west side of Bridge Street, north side of the new rail trail), with grant assistance from the Michigan Natural Resources Trust Fund. If you would be interested in getting involved in the planning process, you can contact Becky at 642-6324 or saranacoffice@gmail.com.

More Village of Saranac Info >>
Village of Saranac:
Office Hours: 8 - 12 & 1 - 4:30, M-F.
Unless Otherwise Posted.
Address: 27 N. Bridge Street
Saranac, MI, 48881
Telephone: 616-642-6324
FAX: 616-642-0472
E-mail: info@villageofsaranacmi.org
Recycling has never been easier!
Green Valley recycling has come to Saranac with an inexpensive, non-sorting, large bin that will help you help keep our environment clean!

Want to know more? Read up on it on our page For Residents!