Your Source for vital Saranac information
The lovely Village of Saranac, 48881

It's SPRING CLEAN UP time again!
Please remember, this service is for
VILLAGE RESIDENTS ONLY!
See flyer below for further details.

Short-Concise "Did You Know" type info sheet from Village of Saranac
Whether you've just moved to our friendly little village or you're a seaoned village resident, we hope you find the following information useful:
Village Wide Inspection of Water Meters & Underground Piping: Please call Tim Simmons (616.902.3946), Village DPW Director, to schedule an appointment (see full Notice below):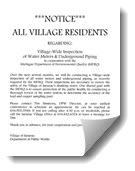 Starting November 7th 2016 Ionia Dial-A-Ride: New Daily Trip Schedule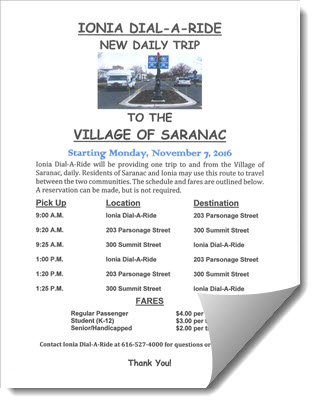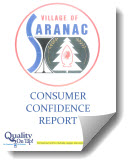 2016 Revised Consumer Confidence Report
(revised 9/23/16 to include copper test results in table on page 3)
More Village of Saranac Info >>
Village of Saranac:
Office Hours: 8 - 12 & 1 - 4:30, M-F.
Unless Otherwise Posted.
Address: 27 N. Bridge Street
Saranac, MI, 48881
Telephone: 616-642-6324
FAX: 616-642-0472
E-mail: info@villageofsaranacmi.org
Top News & Events
Check out all the pages for info about the Village of Saranac, Michigan. And you can check our FaceBook page :