Your Source for vital Saranac information
The lovely Village of Saranac, 48881
Village of Saranac Photo Update - Rails to Trails (from Saranac to City of Ionia): The following pix were taken re: the paving of the first link of the Rails to Trails project in Ionia County, (October update):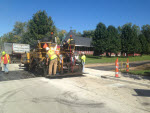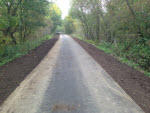 In compliance with the State of Michigan's Economic Vitality Incentive Program : the Village of Saranac has developed an Employee Compensation Plan- click on the title to view/download.
For a list of Saranac businesses and organziations: Saranac Community Club website business listings.
More Village of Saranac Info >>
Village of Saranac:
Office Hours: 8 - 12 & 1 - 4:30, M-F.
Unless Otherwise Posted.
Address: 27 N. Bridge Street
Saranac, MI, 48881
Telephone: 616-642-6324
FAX: 616-642-0472
E-mail: info@villageofsaranacmi.org
Recycling has never been easier!
Green Valley recycling has come to Saranac with an inexpensive, non-sorting, large bin that will help you help keep our environment clean!

Want to know more? Read up on it on our page For Residents!